LIVE! From The Pepsi Center - Denver, Colorado!
TLC Grudge Match: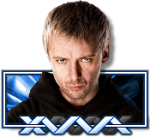 "Diamond" Jack Sabbath vs. Jack Hazard
The Jack has hit the fan and things have lost nearly all sense of control as Jack Hazard and Jack Sabbath continue their vicious war against one another. Jack Hazard thought he would retire and put the wrestling business behind him, though Jack Sabbath wanted to teach Hazard a dastardly lesson during the waning months of the Legion era. If you're in you're in and there isn't any getting out. This proved to be true in the end, for after months and months of struggling to fight it; Jack Hazard returned to the XWA with one express goal in mind, the complete and utter destruction of Jack Sabbath. The XWA's Premier Talent had thought he'd put the past behind him with the Death of The Legion until Hazard returned, Sabbath furious that a man he'd personally put down hadn't stayed down. Now however, "Diamond" Jack Sabbath will get a chance to finish the job.

As this bitter rivalry seems to have come to a head, what will happen when what was easily believed to be the strongest alliance in the XWA at this time last year clashes in such a volatile match? And will either of these men ever be the same once all is said and done?
---
Deadline for matches is Friday, July 8th at 11:59 Eastern Standard Time.
Voting will start at this time and conclude on Sunday, July 10th at 11:59 Eastern Standard Time.
[CST is one hour earlier. GMT is five hours later.]