The Main Event:
XWA World Heavyweight Championship!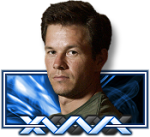 DGX© vs. EBR
Honestly, it doesn't matter what is written here. This match, nearly a month (indirectly) in the making, is for the main prize in XWA; The XWA World Heavyweight Championship. This match, one preordained to take place tonight, is between two of the greatest competitors to have ever entered an XWA ring; DGX and EBR. And this match, such a match that many throughout time will claim to be the greatest match they have ever witnessed, is going to be more vicious and indescribable than any we have ever seen before; so much so that the Little Jimmy's out there may want to be put to bed early.

With all that said, tonight is the night. EBR has forced his way through Kendo Kid, Derrick Jedi, and Danger Liam to get here; claiming the Grand Prix cup in the process. With KC Krystal, Luther Castle, Matt Steel, and Super Dragon IV all standing behind him, the challenger seems near unstoppable going into this match. But his opponent is no slouch and EBR had best be prepared for war, his foe sending message after message to The Baddest Man on the Planet at the cost of other's own well being. After victories over Kendo Kid and The XS (with partner Hutton Brown) via knockout and beating his opponents into submission, respectively, DGX looks stronger than ever before going into the title defense. And with Rated X, the current holders of every single championship belt in the XWA, at his back; The Pace Setting Ace of Professional Wrestling is extremely confident going into this match.

And yet, the smoke will clear. When it does only one man will be left standing, and that individual will be the man who walks out of the Pay-Per-View as The XWA World Heavyweight Champion. Through victory, their chains shall be broken.
---
Deadline for matches is Friday, July 22nd at 11:59 Eastern Standard Time.
Voting will start at this time and conclude on Sunday, July 24th at 11:59 Eastern Standard Time.
[CST is one hour earlier. GMT is five hours later.]