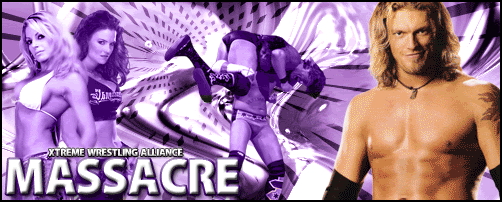 LIVE! From the Colonial Life Center in Columbia, South Carolina – December 9th Deadline

The Main Event:
#1 Contender's Match - Falls Count Anywhere!
Derrick Jedi won the Fatal Fourway at Hardkore Halloween to face Angelus for the World Heavyweight Championship, just one week after winning the Hardcore Championship from Hutton Brown. In order to avoid another "Hutton Brown" situation, Richard Maxwell immediately forced Jedi to defend his title the next night on Massacre. In a rather unexpected and unpleasant turn of events, T.K. not only defeated Jedi for the Hardcore Championship but put Jedi on the shelf at the same time. Feeling confident with such accomplishments under his belt, T.K. approached the Commissioner demanding to be Number One Contender in Jedi's place. And yet, just when it seemed that Richard Maxwell might agree, who would step forward to argue such a claim than The Great One himself, Lucifer "MadDog" McMahon. A short debate later, and Richard Maxwell booked our Main Event for the evening, with the winner to face Angelus for the World Heavyweight Championship at X-Mas Kaos. It's so nice when the superstars do Maxwell's job for him.
---
Deadline for matches is Friday, December 9th Deadline at 11:59 Eastern Standard Time.
Voting will start at this time and conclude on Sunday, December 11th at 11:59 Eastern Standard Time.
[CST is one hour earlier. GMT is five hours later.]