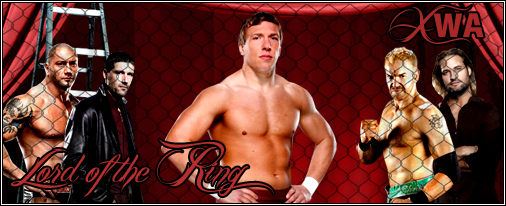 LIVE! from Madison Square Garden in New York City!
The Main Event
Lord of the Ring: Royal Court Match!
XWA Champion: Rose vs Angelus vs DGX
Four men entered the Semi-Finals at the start of the show, Alex Sean, Angelus, DGX and the #1 Contender, Hutton Brown. But only two men could advance, and after two spectacularly violent confrontations, the finalists have been revealed: Angelus and DGX! These two warriors now move on to the final round, the Royal Court! A steel cage surrounds the ring and in the center of the ring stands a 15' ladder. High above the ring hangs a pouch, inside of which is a specially designed, one-of-a-kind XWA signet ring. The winner of the match is the man to escape the ring with the ring in hand! The man who claims the title, Lord of the Ring gets to pick the time and place of his XWA Title shot...unless, of course, he's already the XWA Champion. If Rose wins, he gets to pick his opponent for the next PPV AND the stipulations for that match.
----
The LOTR Schedule:
Sat. August 21 -

Card Posted


Fri. August 27 -

{2nd Round Deadline}


Sun. August 29 -

{2nd Round Voting Ends}


Mon. August 30 -

{LOTR Final Match Announced}


Sun. September 5 -

Match Deadline for Show


Tues. September 7 - Voting Ends