One Ring to Rule Them All, it's...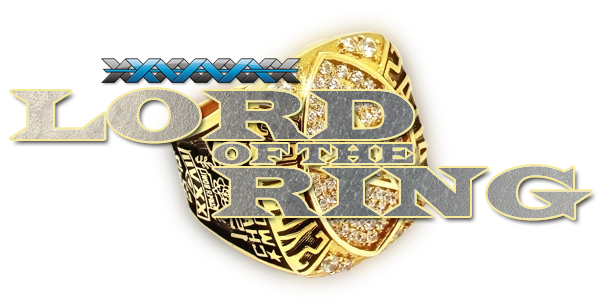 Broadcast on The Xperience and the Battleground Network
LIVE! From Madison Square Garden, Manhattan, New York (18,500 Capacity),
Theme Song:
"The Uruk-Hai" by Howard Shore
The Main Event:
The Lord of the Ring Final!
Albion Gale vs. Jerod Barnez vs. Angelica Vaughn
This is it, ladies and gentlemen- twenty-four competitors began and now only three remain. Albion Gale was knocked out of the tournament in the first week, but due to a 'second chance' match was allowed to gain a new spot and managed to advance into the finals. Jerod Barnez, a two-time Supreme XWA Champion, lost his crown a year ago and has battled tooth-and-nail to get to this point. Angelica Vaughn came to the XWA earlier this year with the express intention of main evening Legends this year.

All three competitors have something to fight for, but only one of them can capture victory in this three-way elimination main event. The Lord Of The Ring may challenge for the Supreme XWA Championship whenever they please- who will walk away with the prize?
Supreme XWA Championship!
Austin Carter vs. Lx-Tim
Lx-Tim has enjoyed a comfortable summer as Supreme XWA Champion, but that may be about to change. At the IYHWF/XWA crossover show Worlds Collide a thirty-person inter-promotional Rumble took place, where the winner would face the top champion of their respective promotion. As thirty IYH stars and XWAers fell, Austin Carter picked up victory, securing himself a title shot at this very event for the Supreme XWA Championship! The last time Carter faced Tim for a title was last year for the Television Championship, but since then Carter has become stronger and fought off friends turned enemies. Lx-Tim has only gone from strength-to-strength, and looks to continue this.

Can the Windy City Daredevil capture the Supreme XWA Championship? Or is the History Maker about to stamp another successful defence into the record books?
The Mariarch vs The She-King!
Kaida Kagome vs. Emery Layton
We have seen many new faces emerge this summer, but one of the most terrifying has to be Kaida Kagome. The Matriarch of the Kagome family has antagonised many XWAers since her arrival, but perhaps none as much as the Worst of the Pavees Emery Layton. It's been an eventful summer for the former Supreme XWA Champion, as she suffered a concussion at No Man's Land, became Union Battleground Champion and her long-lost friend Yasuko re-emerged, forcing her way back into Emery's life. But while all of this has happened, Kaida has loomed in the shadows, and waited.

In Kaida's second match of the night and Emery's in-ring return to the XWA, we're surely set for one hell of a match between two of the absolute best. Stay tuned for this one!
Revolutionaries Collide!
Smith Jones vs. A.J. Morales
At the beginning of the year, Smith Jones was the World Television Champion and, by all accounts, was the ruler of XWA Massacre. Throw in a man called Jake Rogers and all of that came to a screeching halt. Meanwhile A.J. Morales ruled the Hardcore 24/7 Division as it's champion, but when Rey Del Presagio dropped out of the sky, that also came to a conclusion. Stick two former champions intent on revolutioning XWA in the middle of a ring and what have you got? An instant classic, that's what!

Two of the best in this era, going head-to-head, one on one, in Madison Square Garden. Nuff said!
Two Worlds Collide!
Shade vs. Mark Storey
Shade made quite a stir when he signed with the XWA at the beginning of the summer, and now he makes his first appearance on an XWA Supershow. Challenging Mark Storey to a match over Twitter, the two former 2WWF stars look to do battle in the only way they know how.

In a match that could totally steal the show, Shade takes on one half of the XWA Tag Team Champions Mark Storey. Don't miss it!
He's Back!
Kaida Kagome vs. Sean Young
Two matches in one night would deter most competitors, but not Kaida Kagome. In her first bout, Kagome faces a star we've not seen compete in an XWA ring in over two years. Sean Young announced his retirement from professional wrestling in 2016 and hasn't competed since. But now, in August of 2018, Young makes his historic return to the ring as he faces someone he's never shared a ring with before.

Will Young be able to rekindle the flame and overcome Kagome? Or will ring-rust allow the Matriarch to defeat the returning star?
Double Supershow Debut!
Jason Ryan vs. Alex Kincaid
Alex Kincaid impressed in his debut during the Lord of the Ring tournament, but now he makes his first appearance on an XWA Supershow! He's not the only one though, as Jason Ryan- a man with a past trying to create a better future for himself- takes his first steps into an XWA ring.

Two men looking to make an impression- who wants it more?!
Opening Match!
Blake Archer vs. Will Neilson
Supershows are back and XWA is live from Madison Square Garden for Lord Of The Ring! Opening the show, Blake Archer- a man with a Golden Ticket and a continuing rivalry with Levinator- takes on Will Neilson, who makes his first appearance on a Supershow after impressing in the Lord Of The Ring Summer Tournament on Massacre.

The two go head to head in a kick-off match that's set to be all-action from start to end!
--------
Deadline for matches is 26th August 2018 at 11:59 Eastern Standard Time.
Voting will start at this time and conclude on 2nd September 2018 at 11:59 Eastern Standard Time.
[CST is one hour earlier. GMT is five hours later.]