Basic Info
Name.
Natalie Driver (full name: Natalie Europa Driver)
Age.
21 (DOB: 3/16/1998)
Alignment.
Just Happy to Be Here
Billed From.
EMPIRE Wrestling Federation (actual birthplace: Houston, Texas)
Nicknames
Crown Princess
Saturn Strong Style
Weight.
141 lbs.
Height.
5'8"
Biography.
Born to two high-ranking diplomats in the U.S. State Department, Natalie Driver spent most of her life as something of a perpetual outsider, starting her life over every two or three years as her parents got assigned and reassigned all over the world. She never really set down roots or felt like she belonged anywhere until her parents took an assignment in Japan when she was 17. Not long after her arrival, she discovered a love for pro wrestling and began training in judo and karate in preparation to apply to the EMPIRE Wrestling Federation dojo, getting in on her first try at the age of 18 and officially debuting a year later as both the only woman and the only gaijin in the 2017 class of Young Royals.

EMPIRE is one of the longest-running promotions in Japan, active continuously since the early 1970's. The company has seen its share of ups and downs, from the soaring heights of their late-'80's/early-90's peak to the absolute rock bottom it hit in the 2000's, but lately, they've started to turn heads internationally thanks to their purist approach to the sport and a host of promising young talents, with Natalie among them. While her win-loss record was well below .500, as is the case for most Young Royals, she performed exceptionally well for someone at such an early stage in their career, and in July 2019's REALITY Jr. Tag Tournament, she scored falls over both of the other Young Royals in the mix, cementing herself as the head of the class. But her real breakout moment came in September, when Atsushi Matsui, the reigning 254 TV Champion, invited Natalie to challenge him for the title at that month's Korakuen Hall show. Nobody expected her to last three minutes—least of all Matsui himself, who spent the whole week prior to the fight partying in Tokyo's most expensive nightclubs—but against all odds, Natalie managed to go Broadway with the champ, fighting to escape Matsui's trademark Scorpion Hold for over a full minute and only tapping out right after the clock hit the 25:40 time limit. Matsui left with the belt, but Natalie won the respect of EMPIRE's fans, and the front office rewarded her with the title of "Crown Princess" and an international excursion to XWA.

This is the biggest stage any Young Royal has been sent to since the excursion tradition began in 2000, and by sending Natalie here, EMPIRE has effectively declared that they're betting their future on her. She has two years to learn and grow as a wrestler here before she returns home to claim her throne. But the BattleZone has a way of changing people, both for better and for worse, and whichever way it goes, she might never be the same...
Championships and Accomplishments.
N/A
Teams and Alliances.
N/A
Other Promotions And Tenures
EMPIRE Wrestling Federation (2016-2019)
Appearance
Pic Base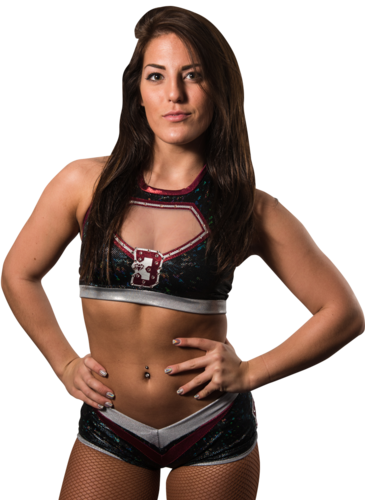 Tessa Blanchard
Ring Gear:
Black top and trunks, black boots, black knee pads, black elbow pads, white wrist tape
Street/Backstage Gear:
Officially-licensed red and white EMPIRE Wrestling Federation tracksuit, with a white T-shirt and black Nike cross-training sneakers.
Sometimes wears one of three baseball caps, either a black Yomiuri Giants one, a navy late-'90's Houston Astros one, or a white Sega Saturn one.
Entrance
Entrance Theme:
"Boo! Bitch!" by Kim Petras
Entrance Text:
"BREAK!"



A thumping, glitchy electro house beat starts to play as a computer-generated EMPIRE Wrestling Federation logo, depicting Atlas holding up the world on his shoulders, appears on the XtremeTron. A few seconds later, the cameras spot Natalie Driver standing at the top of a set of stairs in the lower deck of the audience. She takes a moment to survey the arena in awe, then, as per her home promotion's tradition, starts making her way down through the crowd.

HANA RAMIEREZ:
Making her way to the ring...from EMPIRE Wrestling Federation, weighing in at 141 pounds...the Crown Princess, NATALIIIIIIE DRIIIIVEEEEEEEER!

Before long, Natalie reaches the barricade and hops over, circling the ring and high-fiving fans who reach out to her until...

"Woo—! Ahhh!"

Right in sync with the music, Natalie hops up on the apron and slides in under the bottom rope, rising to her feet as the beat gets more subdued. She backs up to the center of the ring, turns to face away from the stage, and drops to one knee, bowing her head and mimicking the Atlas pose as the producers switch to juuuuust the right camera angle to make it look like she's the one holding up that CGI globe. After a few seconds, she looks up with a smile on her face and stands again so she can get to her corner and limber up.

In Ring
Wrestling Style.
Advanced Rookie
Like all EMPIRE Young Royals, Natalie pretty much sticks to the fundamental elements of strong style—headlocks, bodyslams, dropkicks, you get the idea. She has a vision of what kind of wrestler she wants to develop into, and has already coined the term "Saturn Strong Style" to refer to it, but while she knows what her strengths are—speed, stiff strikes, and unorthodox judo throws—and has plenty of raw talent, it's going to take time and experience for her to really put it all together.
Finisher
Main
- "Boston Crab"
Secondary (optional)
- "Axe Divebomber"
(Sliding crooked-arm lariat)
Moves:
Signature Moves
01.
Basic suplex
02.
Tackle
03.
Hip toss
04.
Lariat
Regular Moves
01.
Armbar
02.
Chain wrestling
03.
Bodyslam
04.
Dropkick
05.
Irish whip
Rookie Mistakes
At some point in every match, Natalie attempts one move not listed above, which inevitably gets blocked, countered, or just completely misses.