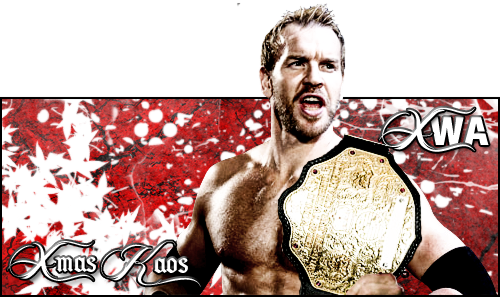 First Posted:
February 8th 2010
by
Johawn
We begin in darkness. There is a dull rumbling of something, but exactly what can't be heard just yet. There's a vague flash of someone, but exactly who can't be seen yet. There's a big feeling of something, but exactly what hasn't started yet.
Things are about to change.
There is another flash of light, and, only just visible, is one of the faces of the wringing changes. Dan Bennett's face, in extreme close up, smiles humourlessly at the thousands watching at home.
There are men, hungry men.
Another flicker and the image of Dan Bennett's leering face is replaced by that of a desperate looking Rose. Another few flickers zoom out to show Rose proudly holding the XWA Championship belt over his shoulder, looking as if he went through a war to win it, when in fact the title is utterly meaningless to all but him and his new friend, MadDog.
Change brings opportunity. And opportunity asks questions of all men.
A final flicker gives us the image of the solemn looking Tempest. The man around whom the XWA has come to mean so much to so many. The man who may just be the single greatest the XWA has left. The man who must go through so much tonight. The low rumbling of earlier comes to an abrupt halt.
This is…XWA FINAL COUNTDOWN!
The song comes in straight from the riff and we immediately go to clips, old and new, from previous XWA events, highlighting the highs and lows of Tempest, Rose, MadDog, as well as the battles of newcomers from XWA Genesis .
[/b]
We're leaving together,
But still it's farewell.
And maybe we'll come back to Earth,
Who can tell?
This segues into images of stars whose presence is currently missed – those of Alex Sean, DGX and EBR, the footage shown fitting tributes to stars of such great magnitude.[/b]
I guess there is no one to blame
We're leaving ground (leaving ground)
Will things ever be the same again?
The final shot shows the images of the three legends, EBR, DGX, and Tempest, replaced by three silhouettes, leaving the audiences to wonder who will step up and form XWA's new guard of honour. Could it be a question we will have answered tonight? There's only one way to know.
IT'S THE FINAL COUNTDOWN!
And we go live to XWA Final Countdown, where a sold out crowd anxiously awaits of XWA's Pay-Per-View extravaganza. As always, standing by at ringside are XWA's announce team, Matt Steel and Matthew Werner.
Matthew Werner: Welcome, ladies and gentlemen, to XWA Final Countdown, with a sold out crowd emanating from the 1st Mariner Arena here in Baltimore, Maryland!
Matt Steel:[/b] And we have a packed event for you here tonight. But first, we will have an announcement which comes from XWA's Management. We hand you over to Keri Thames.
Keri Thames gets up from her position next to the timekeeper and makes her way to the ring to catcalls and wolf whistles from a hot crowd. She steps daintily in the ring, microphone in hand, and starts making her announcement.
Keri Thames:[/b] Welcome to XWA Final Countdown! Now, before we begin, we must inform you of a few things, but we will be underway soon with all of the action you have come to expect from the XWA!
The crowd give Thames mixed reactions, eager to hear what she has to say, but just as anxious to get this show started. Thames carries on, professional that she is.
Thames: First and foremost, we are happy to announce that, as many of our pay per view carriers were unable to broadcast XWA Christmas Kaos due to the adverse weather, we will be repeating all of the matches which took place through tonight's pay-per-view event!
No mixed reactions here. Many fans were disappointed with the absence of Christmas Kaos, and are eager to see just what went down.
Thames: However…we are sad to announce that due to circumstances beyond our control, Alex Sean and Lion Mertuil will not be competing tonight. We can…
The fickle crowd, so enthused by the first part of the announcement, quickly turn on Keri Thames, and maybe they're right to do so. These are not only tonight's main events, they are also some of the biggest names in XWA history.
Thames: …we can only offer our apologies and ask for your patience as we try and deal with this situation. We hope to bring you an announcement as soon as we possibly can. But now, we go on with the show!
And with that, Keri Thames makes her leave from the ring to another decidedly mixed response from those in attendance tonight, though the cheers may be slightly edging out the boos…this is the XWA, dammit! Title match or no title match, we're in for a hell of a show!
Werner: Interesting announcement by Keri Thames there, but no mistaking the enthusiasm of the crowd here. Well, folks, we're going to start tonight's show by taking you back to Christmas Kaos, as promised.
Steel: That's right, Werner. And our first match is between XWA rookies, Chris Chaos and JR Judy, who have been looking to take this company by storm. And the great thing about matches between two newcomers like these is you can see the hunger in their eyes as they try and trip one another up on the way up the mountain!
And with that, all eyes in the arena are on the big 'tron screen as we go to footage of Christmas Kaos.
The arena goes black as you hear the first notes of thumb hang. Next a green laser starts to flash all over the place. Then the laser stops and the arena turns blew with smoke all over the stage and you see Chris at the top of the stage with a smirk on his face like Chris Jericho. He then walks to ring and when he enters the heavy metal demon horns up.
Matthew Werner:[/b] Here it comes! The match that might shut up Chris Chaos!
Matt Steel:[/b] Why do you not like Chris?
Matthew Werner:[/b] He has no respect for the veterans of this business.
Matt Steel:[/b] However JR did show up and disrespect all of the talent on the roster.
Matthew Werner:[/b] Whatever.
Hero by skillet hits as JR Judy hits the stage and walks to the ring overusing his signature sign.
Both men glare at each other from opposite sides of the ring as the referee checks both competitors' boots for weapons. Then the referee then signals for the bell to be rung.
Both competitors move to the centre of the ring and tie up. JR pushes Chris to the mat as Chris quickly gets back to his feet, but JR pushes him to the mat again, and yet another quick retaliation from Chris Chaos. JR then hits Chris with a swift kick to the gut making Chris double over in pain.
JR Judy steps back as Chris gets back to his feet. Chris runs at JR with a powerful clothesline from hell knocking JR down to the mat.
Matt Steel:[/b] An amazing clothesline from hell.
Matthew Werner:[/b] Shut up.
Chris Chaos then picks up JR Judy and executes a strong belly to belly suplex. As Chris sets up for the german suplex JR hits him with a back elbow which he then executes a DDT leaving Chris on the mat. From there he turns around to do his signature sign again; wasting time not focusing on Chris when he turns around and receives a spear. JR immediately gets back to his feet and Chris knocks him down with a Pelé kick. Chris then tries a pin.
The Referee makes it to one and a half and JR kicks out.
Chris Chaos sits up and looks at JR contemplating his next move.
Chris picks up JR and hits him with a powerbomb, and tries to pin him.
The Referee again makes it to one and a half and JR kicks out.
JR Judy next gets up and runs off the ropes to hit Chris Chaos with a missle dropkick knocking Chris Chaos down to the mat. JR then climbs the turnbuckle and connects with a frog splash and tries for a pin.
One......two...... Chris Chaos kicks out in the nick of time!
Matthew Werner: So close to shutting that punk up!!!
Matt Steel:[/b] That was a close pinfall!
JR Judy is stunned that he didn't get the pinfall. He looks around as the fans start cheering Chaos! CHAOS! CHAOS!
JR picks Chris up and sets up for The Perfect Bomb. Chris counters it with a hurracurana, then hits JR with a shining wizard. He then climbs the top rope and executes a frog splash.
The fans are on their feet as Chris Chaos holds up the heavy metal demon horns. He then picks up JR Judy and sets up for the piledriver as JR Judy counters it with his finisher the wave of perfection, then attempts a pinning manoeuvre .
One...Two... Chris Chaos again kicks out in the nick of time!
JR attempts another pin.
One...Two...Chris again kicks out.
Fans are wildly screaming Chaos Theory!
Chris Chaos springs to his feet at the roar of the crowd runs at JR Judy catching him with a dropkick. He then picks JR up and sets up for the Chaos Theory. Chris gives it a little time before he falls completing the move. Once he hits it the fans go wild. Chris then grabs JR Judy's arm and executes a gracie armbar.
The Referee asks JR if he wants to tap. JR says no twice and makes his way to the ropes barely grabbing them.
The referee breaks the hold as Chris Chaos picks him up again and hits the Chaos Theory. He then attempts a pinning maneuver.
One....Two....Three!!!
Anvil's Thumb Hang hits as the referee raises Chris Chaos hand in victory.
Matthew Werner: They need to look at the tape cause...
Matt Steel: Wait Matthew. It was as clear as day that JR Judy got pinned. Don't get your panties in a wad there is one word for this match. REMATCH!
[/quote]
Werner: Great match by two of XWA's rising stars there, eh, Steel?
Steel: It was, and I really hope we do get a rematch some time soon. Maybe we'll talk a little more next time.
Werner: Well, sometimes when you're watching a great match you forget your job and just wanna watch it unfold. But anyways, we're moving swiftly on here, ladies and gentlemen, and we're still at Christmas Kaos, where Rose took on Tempest in a rematch four years in the making! But before we watch these two duke it out, we'll hear what Rose had to say earlier in the evening.
Sven: Thanks guys. I'm here with self proclaimed XWA Heavyweight Champion, Rose, who is up against Tempest tonight on the back of an incredibly controversial win over MadDog at Genesis. First of all, merry Christmas, Rose.
Rose stands beside Sven, his expression unreadable. There's a twinge of something there. Is it guilt? Regret? We can't be sure. What we CAN be sure of, though, is that MadDog's XWA Heavyweight title is proudly displayed over the shoulder of Rose. If there is any remorse for his actions, it obviously does not extend to his finally holding some gold, officially or not.
Rose: Thanks, Sven, good to see ya. Holly sick?
Sven ignores this.
Sven: Well, let's get down to it. First of all, a lot of us backstage were surprised that you agreed to grant us this interview, given your words about the fans last week. If you don't care about them, why do you feel the need to address them?
Rose: Well, Sven, I feel like I had some explaining to do. I know a lot of people were shocked at what happened at Genesis, and something about the whole thing felt wrong to me.
Sven: Wrong?
Rose:
[/b] That's right. Y'see, I came out and said some pretty harsh things, and I don't think it'd be gentlemanly of me if I didn't just y'know, be a man about all of this, maybe meet up with a couple people, explain myself. Just so we can all get on with things. As it happens, I did feel pretty awful about everything that happened. I did. Me and MadDog, we sat down after the show in a nice quiet bar. Dog had a couple beers, and I had a cranberry juice (I'm watching my intake, you understand)…anyway, we were sat down, all ready to toast and reflect on a job well done but…something just wasn't right. It felt empty.
Sven: Really?
Rose: Yes! Yes, it did. We just couldn't bask in that after-plan glow. Something was just missing. And do you know what that was, Sven?
Sven: What was it?
Rose:[/b] The fans! It was the fans, Sven! I'd turned my back on them! I'd insulted them, I disrespected them, and as we all know, Sven, the last thing you wanna do is disrespect the fans, Sven. They make this great business. Even you know that, don't you?
Sven:[/b] That's true, yes.
By the way, during Rose's last little bit, the aforementioned fans didn't seem to quite know how to react. It all seemed a little…pandering. But there's a little twinge of hope that Rose just maybe made a mistake. They are uncommonly silent as they wait to hear the rest of Rose's explanation.[/b]
Rose:[/b] You're damn right it's true. So I thought to myself, what have I done? And I said to the big Dog, I said 'Big Dog…what did we do?' And like all good friends, which is what we are, by the way, he nodded and knew exactly what I meant. And we agreed, right there and then, that we had to put it right. So, ya know what we did?
Sven: What did you do?
Rose: We did the only thing we could to ease our consciences. We did wrong. We put it right. We got in a few more beers (plus a cranberry juice, of course, watching my intake, like I said) and we invited some of the great people of New York City to have a few drinks with us.
The crowd comes to life, cheering at the notion of Rose and MadDog doing the right thing and coming back to their side. And drinking.[/b]
Sven: Really? That's awesome!
Rose: [/b]It's not awesome, Sven. No, noooo. It's our duty, as people who made a mistake, as gentlemen, to make amends. So we bought the fans drinks. But it wasn't enough. We invited them to join us. STILL not enough? We apologised to them! Was that enough? HELL NO! We told them road stories! And guess what, Sven?
Sven: Not enough?
Rose:[/b] OF COURSE IT WASN'T ENOUGH! Not enough for THESE fans, nooo. No, we gave them the opportunity of a lifetime, Sven, to meet their heroes, to get the personal treatment, to share a bit of the lives that they'll never have, and just bask in the glow of two of the greatest wrestlers ever to put on a damn pair of boots and THEY WANTED MORE. Of course they did…they're fans. Ohh, they wanted autographs, and they wanted pictures. "Gee, thanks guys. This has been great and all, but we're gonna need proof! No one'll ever believe that we met Rose and MadDog, we'll need proof. We need to share your spotlight. We need to show that we're friends with you."
Rose starts laughing to himself, burying his head in his arm to try and stifle it. It is completely devoid of humour.
Rose: Oh, XWA fans…you poor people. You people think that you can be friends with us? You think that Rose and MadDog are your buddies? Please. I'm far too busy being the greatest in the world, beating jackass after jackass on my way to the top to give any of you the time of day. Oh, me and MadDog had a good laugh at that one, didn't we, Big Dog?
MadDog steps into shot, having apparently been just out of the way throughout. He is smiling indulgently as he nods his head, agreeing with Rose.
Rose: Yeah, it was a hoot. I mean, he started laughing, and of course I started laughing, and they started laughing. Oh, we were all cracking up. Good times, good times, eh, Big Dog?
MadDog is barely containing his laughter.
Rose: Oh, man. Oh, you wanna tell 'em what happened next?
MadDog holds up a hand, inviting Rose to carry on, as he's telling the story so well.
Rose: Ah, alright then. Well, we were laughing, and they were laughing, and it was all merry. And then we all got up, we had to leave. And they were clamouring for their pictures and autographs and that just made me laugh harder. And then, just to make it like, one of the greatest evenings ever (you'll laugh at this bit, I know I did…) the Big Dog here, he's shaking hands, and then he just pulls one of them in and kicks him square in the gut!
Both MadDog and Rose burst into laughter at the memory, leaving a bemused Sven Michaels standing there looking a little sickened. The crowd, sickened or not, are pissed as hell at the thought of what Rose and MadDog do to poor fans. Rose, though, would claim that they're pissed at themselves for falling for another of Rose's tricks.
Rose: Oh, man! Ohhh! Rose wipes a fake tear from his eye Man, I was laughing so hard, I barely managed to run up and knee the bastard in the head. And we all know how much I love to knee people in the head.
Sven: As horrible as that is…is that what you have in store for Tempest tonight?
Rose:[/b] Oh, but of COURSE, Sven. I mean, Tempest is no slouch, we all know that. But let's face it, I was better than him last time we squared off. And that was back when I was only half as good as I am now. Oh yeah, I beat him and I'll do the same tonight. I'd even put my XWA Heavyweight title on the line, but...well, what's he really done to deserve that?
Sven: To win a meaningless belt? I dunno.
Rose: Oh, Sven. If we weren't such good friends I'd snap your spine in two. But no, I have no worries about Tempest tonight, and you'll see why a little later tonight. Y'see, the MadDog and myself…we're more than just a team. Sure, we have each other's backs, but there's so much more to us than that. This right here is about more than friendship, respect, and making our way to the top. This, right here, this is an epoch here in XWA. This is where things are gonna start changing. This is where everything starts happening and revolution begins. And it's all about us. MadDog and I, we ARE the Epoch. And Tempest…well, been there, done that. Tempest is another old stepping stone on the way to greatness. I'm sure he'll put up a fight. Who knows? He may even come close. But there's no stopping this. This is inevitable. And it's coming sooner than you think. See ya.
Rose beckons to MadDog and the two of them leave, Rose quietly discussing strategy as they go, leaving Sven Michaels to wonder the same thing the fans are wondering. Just what the hell is going to happen here?[/b]
[/center]
[/quote]
Which leads us nicely into…
[/b]
[/center]